User Generated Content or UGC is any content contributed by people (let's call them fans of a brand) instead of the brands themselves.   Fans create and share a series of videos, pictures or tweets showcasing themselves with the brand through the use of social media and blogs.  Judging by how almost every one of the user generated content goes viral easily and how effectively it captures the attention of a wide audience, UGC is often heralded as the game changer in marketing.
Why should brands use it?
"The next wave of the Web is going to be user-generated content." – John Doerr, Venture Capitalist.
UGC is such a great way to spark desire among people new to your brand and to build long term relationships with your loyal fans. What ever your goals are, UGC is a powerful tool to create a meaningful relationship between your brand and your fans.
Here are more reasons to look into UGC:
A showcase of your brand 
Going into UGC, especially through smart online contest and campaigns, opens up a whole new dimension to your brand.  As fans share stories of themselves interacting with your brand, it allows others to see how they could potentially engage with your brand, too.  It plants an idea in their head. It starts a conversation.  It piques curiosity and leads to questions like,  "What is this brand all about? Maybe, I too, can have that much of fun with it?"  It showcases your brand in a new light and personalize connections to your brand. Leveraging on your fans' stories about your products and services, you get to wow people with a funny, new or distinct features you may have.

More than that, good reviews about your brand help raise your SEO rankings.  It's simple.  The more people post and hashtag (read more about Hootsuite's tips on using a hashtag) about you, the higher chance it is for you to appear on the top of searches.  Being highly visible and trusted by search engines like Google and others, will work favorably to your brand.  It increases credibility, boosts lead generation and shortens your sales cycle.

All these put your brand at the forefront. Translating, of course, to higher purchases and increase in revenue.

Key game-changing point:  Leverage on your fans and their amazing stories about your brand. Build a strong platform and align your online contest and campaigns to their contents. In return, you will enjoy greater publicity and receive more sales opportunities.

A powerful community 
Behind every successful brand, is a community of passionate fans.  They are those who love talking about your products and services.  Take for instance, Apple.  What makes it a brand supremo?   It's not just the IPhone product itself. More than that, it's the thriving band of passionate followers who has build their identity around the Apple I-phones and are willing to queue for days outside Apple stores before the release .

Your brand community provides a platform for your fans to engage with you and others. They are able to connect with like-minded folks and ask questions, share ideas and solve any problems.  Through these interactions, they are empowered to influence.

In the community, real life stories are shared.  These authentic testimonials about your brand  convinces and converts way better than slimy marketing tactics.  Point is, people trust people more, which is why, a survey found that 92% of people are more likely to trust a recommendation from another person over branded content,

Seth Godin, the author and marketer rightfully points out that "you only need 1,000 true fans to build a tribe around your brand".  Start today to build your community.

Key game-changing point:  Build your strong community today.  It'll turn fans to fierce advocates of your brand and it is a fail-proof way to convert many more into believers of your brand.

A cost effective strategy
The wonderful thing about UGC is that it is run by your fans.  Their contributions fuel the conversations around and does the "marketing" for you.  Marketers often save big bucks on ads and other campaigns that may or may not draw the attention it desires.

Key game-changing point:  Leverage on your fans' stories but complement it with the right reward system.  This encourages a stream of loyal contributors and inspire new people to contribute their contents towards your brand.
Here are some examples of brands that rock in UGC marketing: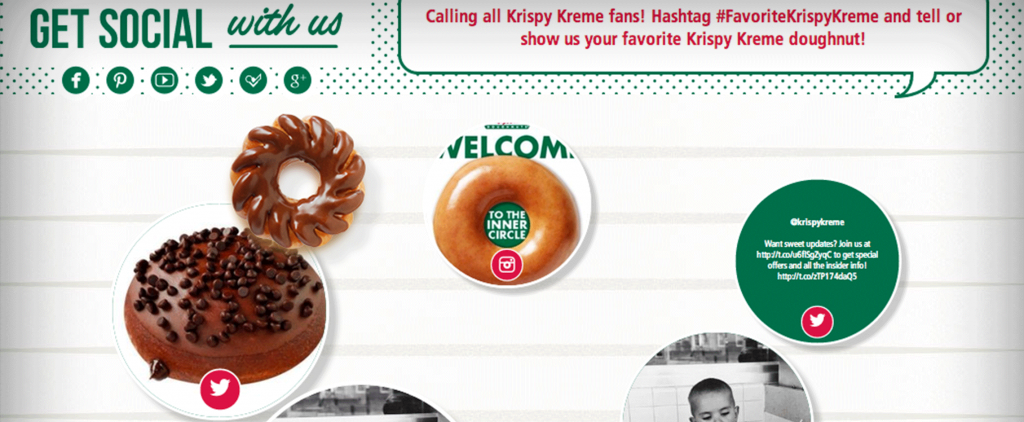 One of  TINT's greatest success was to turn the all time American doughnut giant, Krispy Kreme into a visually and interactive brand, appealing to not only their traditional  set of audience, but to the millenials, as well.  Transforming the website, in-store and social media, the campaign gathered more than 36 million impressions and three thousand aggregated posts.
Read more about it from its original source:  https://www.tintup.com/resources/case-studies/krispy-kreme
Who have not heard about the Starbucks' #RedCupContest? Or the #WhiteCupContest?  Both campaigns invite fans to submit photos of  their creative take on the Starbucks cups in return for a chance to win gifts and have the best entry design be the template for new limited edition cups.  It sent fans (and non-fans) into a frenzied doodling, snapping away pictures of their creative cups and taking over the social media by storm.   The campaigns gathered close to 40,000 photos in just three weeks. A great way to earn publicity, indeed.
This Malaysian low cost carrier definitely has a creative way to increase its followers.  Winner of 'Best Social Media Engagement' award in 2015, Air Asia used Facebook extensively and creatively to increase it's followers.
One of its most successful campaign, "Air Asia Friendsy" was launched back in 2012.  It invited fans to participate in a challenge to fill up 302 seats of Airbus that flew from Sydney to Kuala Lumpur with friends.  The winning entry will receive free flights for himself – along with his 302 friends, too!
Below is the excerpt from the Social Media Business Performance study on Air Asia's marketing strategy:
Within the two days of being live, the contest had more than 4,000 users. As of May 15, 2012, there were more than 11,000 completed entries and the contest increased the Facebook page by 20,000 "Likes".

It grew from local, to national to international news, generating Public Relation (PR) value of $1,627,593 on a $80,000 marketing campaign.

The campaign grew the Air Asia Facebook fan base by 30%. The competition received 12,500 entries and reached 2,291,483 people on Facebook, which is a whopping 20% of Australians using Facebook.
Now, everyone can truly be part of the AirAsia family.
All preceding benefits of UGC leads to one : to influence purchasing decisions.  How have your brand use this powerful marketing tool?  Do share by leaving a comment below.